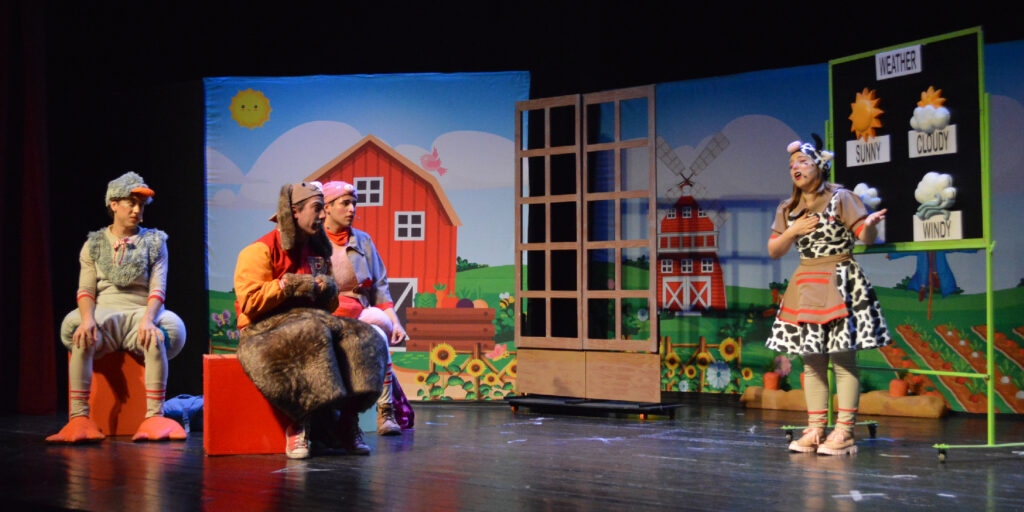 Cada una las obras han sido cuidadosamente diseñadas para adaptarse a un grupo de edad diferente, teniendo en cuenta el vocabulario y la complejidad gramatical de cada nivel y seleccionando historias y personajes que hacen que los estudiantes se sientan profundamente involucrados en la obra. Todas las obras de BAP cuentan con un excelente despliegue de luces y una escenografía y vestuario distintivos y de primera calidad, y sus actuaciones son una experiencia inolvidable en la que no se deja de lado ningún detalle.
Buenos Aires Players cuenta con un elenco talentoso y profesional, y sus artistas no solo hablan un inglés perfecto, sino que también bailan y cantan en vivo en todas las presentaciones.
Auspiciaron el evento Revista COLEGIO, Anglia, SYZYGY, MLG, Celebrate Learning y QSL.
El sábado 11 de febrero presentaron 4 obras:
THE LITTLE DUCKING: Mrs Duck has a new egg and the animals on the farm are waiting for the new duck to break its eggshell. Once it hatches, everybody is surprised because the duckling cannot quack or walk well. The other animals on the farm, Pete, the pig, and Randy, the rabbit, are curious about Donnie, the duckling, and want to be friends with him. Donnie discovers school is cool but Mrs. Duck wants him to stay at home.
ROBIN HOOD: A long time ago, a brave king called Richard leaves to fight in the Crusades leaving his sister, Princess Joanne, to take over the throne while he is away. However, she is not as fair as her brother. With the help of the sheriff, she forces people to pay high taxes. Robin Hood decides to fight for his people, so he starts stealing the tax money to give it back to the poor. One day, he meets Marian, the King's niece, and they fall in love. Princess Joanne knows they are in love and will use this information to catch Robin. Will he fall in her trap? Will an archery contest decide their future?
See this wonderful play and find out.
GIMME A BREAK!: Reginald, an adolescent fighting his fate since he was born and making up his mind what to do in the near future after he graduates, will have to make a tough decision and confront Flora, his overprotective mother, who wants him to go to Harvard to study law and become president of his country. Bob, his father, doubts about this though he tries to support his wife's wish. At school Reginald's friends bully him at first but thanks to Carol, who he is secretly in love with, and the presence of a shrink. Reggie will be able to find his vocation and accomplish his dreams. He loves music and singing as well as Carol. Will Flora and Bob resist Reggie's turn of the screw? Will Carol accept his love? Will he be able to live on music and singing? Come and see for yourself, my friend. You'll love this play full of humour, tenderness, friendship and more.
ECO HEROES: Our Eco-Heroes, Reduce, Reuse and Recycle, are once again called on a mission. Today they must fight against three super villains called Trash, Global Warming and Apathy and so they will call you to help. By learning about recyclable and non recyclable waste, actions to reduce consumption of water and electricity and many other things, you will become an Eco-Hero, too. Will Reduce, Reuse and Recycle be able to save the planet? Will Trash, Global Warming and the Apathy Monster change their attitude towards taking care of the planet?